I made the mistake of going over to Failheap Challenge after
the latest dev blog on vanity items for microtransaction
s:
So how will it work?
There will be a store, and it will have all kinds of stuff for sale: clothes and accessories for your character, custom paint jobs or logo placement on your ships or a fishtank/stripper pole for your Captain's Quarters. You'll browse through the list of items available and, when you're ready to make a purchase, you'll use a new currency called Aurum (AUR).
Where can I get some Aurum?
Aurum is created by breaking up a PLEX. Each PLEX gives you a bunch of Aurum that you can spend in the virtual goods store. If you don't want to spend Aurum on these vanity items, you can always wait for someone else to do so and then buy it off them for ISK. Oh yeah, I should have probably mentioned that earlier. Items bought in the virtual goods store will be transferrable between characters, just like PLEX is today.
The below image demonstrates how Aurum will be acquired and used: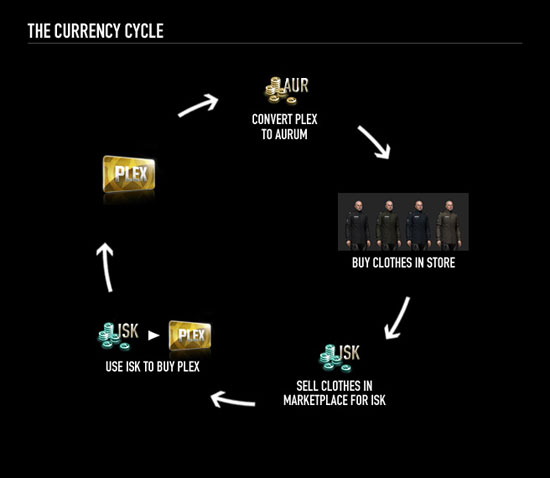 On Failheap there is not
one
, not
two
, but
THREE
threads of people mostly complaining about this, usually going with the "slippery slope" catchphrase as if this wins all discussions on the topic.
The most (only?) interesting concept to come out of the spewing in these threads is that someone who uses real money to purchase ISK legally through plex and gets something is better than someone who pays money directly to CCP to have them spawn it. For example, a Titan bought with ISK needs to have minerals mined, blueprints purchased, space owned for the assembly array, etc, while one spawned by CCP simply pops into existence without the follow on effects. I agree that this is bad.
On the flip side of the coin, CCP is not doing that. They are spawning items which the players cannot make nor can they make analogous items to. The closest this discussion comes to CCP competing with player producers is ships with special visual markings / skins and it has been stated that a base player produced ship would be required input to produce the purchased item.
Basically, while my trust in CCP has been shaken due to recent game changes and the lack of changes in terms of balancing supercapitals, I think they are on the right track for implementing microtransactions in Eve and people who continue to rail against the thought, still to this day, are pissing in the wind. Its a reality of the marketplace that they are coming, we had best use our energy to make sure the PvP balance is maintained in what it proposed instead of raging against what might be in the future 2 years from now. This is the time the foundation is made and being an angry sarcastic internet "expert" is not going to help.
* * * * *
Also, "slippery slope" arguments only really work where the event A (which may be acceptable) leads to event B (which is not acceptable). Selling vanity items does not mean selling useful items is a fait accompli. If they were selling something useful, no matter how inconsequential, then "slippery slope" arguments come into play.
However, you can argue the case of temptation for more profit in which event A leads to B because it means expanding revenue.
* * * * *
All that being said, it does make me think that the possibility of player designed and produced clothing in the future of incarna is dead, and that makes me sad. Time will tell but I suspect that CCP would not allow players to compete with them for coin.
Also, I agree that Aurum is a bad name. Too elvish sounding. I prefered microplex or something more original.